Now that live videos have been available to the masses for over a year it is safe to say that playtime is over. It's gone from a fun and quirky new toy that people would accept pretty much anything from, to a viable space for selling your brand, your personality and your products. It can be a powerful tool that will bring all the 'boys' to the yard, but it can also make your audience wonder wtf you are thinking.
So how do you make your live videos work for you? So glad you asked! We have a social savant or two in-house who have come up with an easy to follow list of strategies you can follow to help your live videos take off and make you the coolest kid on the playground.
Know Your Customer
As with all aspects of marketing knowing who your demographic is is imperative. When you understand who the audience is, you have a much better understanding of what will interest them and get them excited enough to watch your live video. If your customer is a middle-aged beer drinking man, doing your video with a poster of the Powerpuff Girls behind you isn't going to keep them engaged.
Start With a Strategy
When it comes to social media marketing, everything should have a strategy. Even if that strategy is to talk about a specific service or product and then just kind of wing it. For now, at least, live videos are enjoyed because of their unpolished gorilla marketing and candid nature – but they should have some thought and general direction behind them.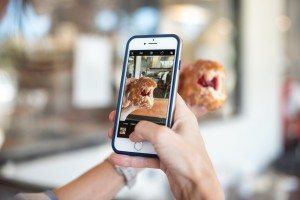 Promote Your Live Video
Doing a live video is great, surprise announcements sometimes work – think Beyonce circa 2013 surprise releasing her album. However, for the rest of us plebs, you might want to give people some advance notice of your live video event. Let them know when and why you are going to live and then be there. If you say that you are going to be online at 10 am, be there at that time, not after.
Use Calls to Action
Whether it is your website, your blog, your business card or your social media, a call to action is imperative to get people to complete the process that you would like them to take. Tell them what you would like them to do and how to do it – trust us, they will appreciate it.
Chat in Real Time
One of the fun things about live videos is how interactive it is. You can see who is watching, you can see when they've enjoyed something you've said and they can talk to you directly while you are live. Getting someone to interact actually interact with your brand is the holy grail of digital marketing and live videos are one of the best ways to make it happen right now.
Knowing when and how to use your Instagram and Facebook live videos is half the battle. Want to take advantage of them but need a little more help? We can really help boost your social skills! Give us a call, we'll have a coffee or a cocktail and see how we can get you going.